Books
Published in 2009, this is an annotated edition of the fictionalized biography of Jesse Livermore, one of the greatest speculators of the 20th Century. The timeless insights found in Reminiscences have inspired countless generations of investors and made it an investment classic. The annotations bring the history, people and strategies of Reminiscences to life in a way that enrich the already mesmerizing reading experience.
Many investors, including hedge fund great Paul Tudor Jones, who wrote the foreword, consider Reminiscences to be a bible for speculators due to its profound psychological insights and its brilliant epigrams on tradecraft. It's also just a gripping read.
The annotated edition is oversized and includes lots of illustrations and photos. And it's not all about Livermore and trading. You'll learn about the German Jewish immigrant who helped Abraham Lincoln finance the Civil War by selling bonds in Europe and later rescued the slain president's widow from poverty; and about the dramatic gold corner of 1869 known as Black Friday that almost crushed the nation's financial system; and about colorful rogues such as Jim Fisk, Daniel Drew, James Keene and Jay Gould, who each shaped modern Wall Street in their own way.
Barron's review: "This annotated edition is big and beautiful, cutting across two centuries of booms and busts and market and economic history, with a myriad of vintage historical photos and instructive historical charts throughout."
Tom Keene of Bloomberg News: "This is the book of the year".
Published in 2007, this book proposes a measured, methodical, effective new way for independent traders to research and trade stocks each week. Intended investors and traders reach their goals with minimum stress and maximum potential gain, the book offers strategies for discovering, tracking, buying and selling the strongest companies and best values in every turn of the business cycle. It introduces each trading method with compelling, real-life examples that show how the techniques work, then dives into the details of an actual trade from start to finish.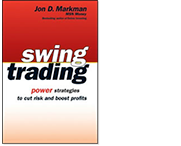 Published in 2005, and still in print, this is an essential guide to the strategy of "swing trading." The concept is simple: Buy rising stocks on reaction pullbacks and short falling stocks on reaction rebounds -- and exit each at predefined targets. "Swing Trading" presents methods that allow busy people to hold trades for a few days to a few weeks by determining high-probability entries and exits that target gains of 6% to 12%.
Where day traders execute many trades for nickels and dimes, swing traders take larger positions and make fewer moves for more substantial returns. The book offers step-by-step guidance and valuable tips on free online tools you can use for help in swing trading, as well as profiles of successful traders and their techniques.
Published originally in 1999, and then again in a second edition in 2001, this book was a pioneering effort to introduce investors to the world of online trading. Back in the late 1990s, the Internet was just becoming mainstream as people acquired email accounts for the first time and were just exploring the potential of the web. This book guided investors and traders to the best websites, explained how to use the tools and offered tested, proprietary methods for systematic investing called "year-trading" and "month-trading" for both growth and value investors.